DeveloperTown believes that the best decisions are made when informed with knowledge and transparency. The Microsoft Center of Excellence Starter Kit for Power Platforms brings both to the surface in a way that would manually not be capable. This centralized solution shines a light on all the efforts of developers and citizen developers across all of the environments of the Microsoft tenant.
Why?
Gaining insight and understanding of what exists today while tracking and governing the new builds
going forward.
The Center of Excellence Starter Kit package is an in depth way to jumpstart your understanding and transparency of how the Power Platform is used throughout your organization.
What?
At its core, CoE Starter Kit is a package of governance tools and metrics. This is a way to foster use and understanding of Power Platform. This centralized, and very thorough package, affords IT and Business leadership the ability to come together and have a full view into the efforts made by everyone in the organization from citizen developers to traditional IT developers.
The Microsoft Power Platform CoE Starter Kit is a collection of components and tools that are designed to help you get started with developing a strategy for adopting and supporting Microsoft Power Platform, with a focus on Power Apps, Power Automate, Power Virtual Agents and SharePoint.
Core. Governance. Nurture. Innovation Backlog.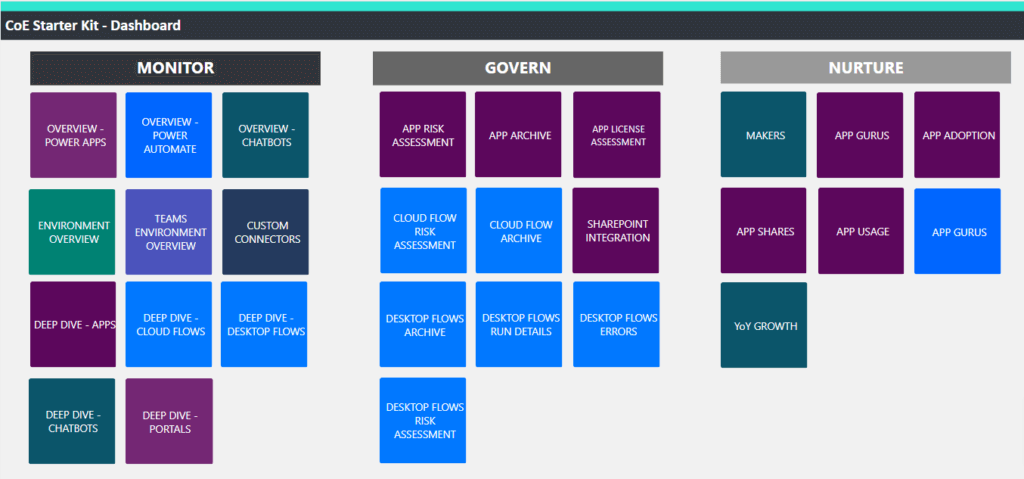 Who?
A Center of Excellence (CoE) in an organization drives innovation and improvement and brings together like-minded people with similar business goals to share knowledge and success, while at the same time providing standards, consistency, and governance to the organization.
The Power Platform CoE Starter Kit is typically managed and utilized by IT as a starting point for conversation and decision making.
When?
Establishing a Center of Excellence of any kind takes time and attention. Starting early with the Power Platform CoE Starter Kit allows for the necessary stakeholders to better understand what to focus on now.
Where?
Starter Kit utilizes a set of solutions which will be installed to the Power Platform creating dozens of CoE Power Apps and Power BI reports. These dashboards surface all of the different aspects of the organization's Power Platform journey.
How?
Monitor. Govern. Nurture.
These staples of the Starter Kit are designed to be the easiest and most robust way to get a full view of your environments and what is inside them. Several of the top features to accomplish this include:
Environment and environment security management
Data loss prevention (DLP) policy management
Data integration and gateway management
Admin analytics (to view capacity and activity on Microsoft Dataverse, Power Apps, and Power Automate)