A DIFFERENT WORLD
Attracting and keeping customers in today's busy world is getting harder by the second. Your customers are still yearning for ways to connect with your brand, but the ways in which they want to connect have changed forever.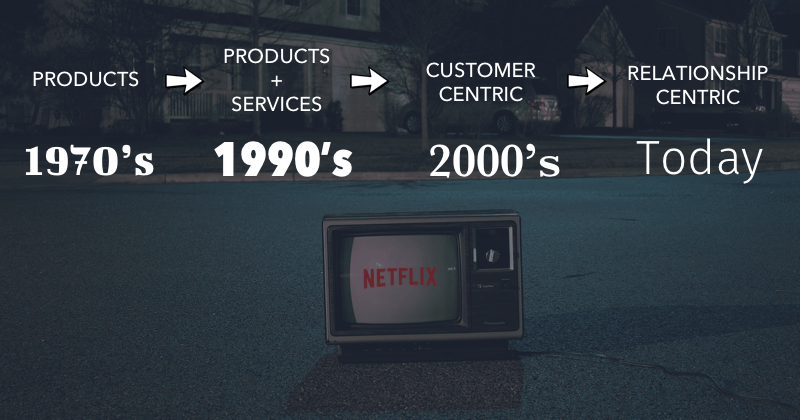 The Evolution of Products and Services


THE RELATIONSHIP IS THE NEW PORTAL.

Randy Fisher, DeveloperTown Design Partner
This applies to both B2C and B2B. And to both internal and external customers. So how can you capture and keep their attention? Here are a few ways you can start.
#1 CLOSE THE GAP
Ask your customers questions to discover what they actually need. Many companies try, but it's difficult to do this without bias. Regardless of what you have heard (poor, falsely-quoted Henry Ford and his faster horse), they do know what they need. If you ask them without leading them, they will tell you. So here are some things that would be helpful to know:
- What goals do your customers have? Life goals. Experience goals. End goals...etc.
- What do they need to accomplish those goals?
- What is the best way to deliver it?
- When do they need it?
That's not everything, but it's a great start. Having a foundational understanding of their what, how, why, and when will give you insight into what you'll need in order to personalize and contextualize the experience for them. This level of attention will help make the product or service memorable, and help you form a new type of customer relationship.
#2 FLIP THE SCRIPT
You need to change the perception of your customer experience from a self-service portal to a seamless customer experience built on trust. The best place to start is by changing perception at the brand level. Most importantly, never think of, or label it as a "customer portal" again. This applies both internally and externally. Internal optics are important because it shows intent. Intent to be more progressive and engage your customers in a new and better way. External optics are just as important because they show your customers that you are purpose-driven, and committed to delivering on your promise to make their lives better. Here are some things you need to ask yourself:
- Do you know the tactical and higher-level purpose of why people need your product or service?
- Can you brand your engagement portal to match this purpose? To solve their problem?
- Are you willing to put in the time and effort to change perception (internal and external) from a self-service portal to a seamless customer experience?
Brand perception isn't set in stone, but it takes a lot of patience and persistence to change. It starts with you believing in your own purpose. With that kind of authenticity, and some good content writing, you can start to turn the barge.
#3 BE THERE WHEN BEFORE THEY NEED YOU
Your customers are savvier and expect more from all of their digital experiences. As I mentioned above in "Close the gap", they expect you to know what they need, when they need it and deliver it instantly. Tackling those challenges probably means rethinking the way you do business. Here are some things to consider:
- Do you understand the full customer journey?
- Are you engaging your customers at the right points instead of waiting for them to come to you?
- Does your product management team have a feedback loop in place to listen and improve?
Customer expectations are ever-changing and so is the technology they use. Understanding and optimizing the customer experience is a lifelong commitment. It doesn't need to happen overnight, but you need to have a good system in place to listen to the market and then act.
SO FOR NOW
Just remember that no matter how special you think you are, choice in the marketplace is constantly growing, and the brands creating deep, lasting relationships with their customers are winning big. The good news is that it doesn't take much to start earning trust. Keeping it requires a relentless dedication to improvement. At DeveloperTown we have worked in over a dozen industries with hundreds of clients, helping people like you cut through the complexity of customer expectations in order to deliver a means of building and sustaining valuable relationships.