At DeveloperTown, we take pride in our talented and experienced design team. We have designers from all walks of life with many different backgrounds in design.
We have UX Designers, Web Designers, iOS and Android Designers, and Designer/Developer hybrids. Some use Photoshop, others use Illustrator, a few use Omnigraffle, and one uses Sketch. Some of us can develop complicated custom websites, some are WordPress junkies, and others don't know the difference between CSS and HTML.
Along with our eclectic design backgrounds, we have very diverse lifestyles. Some of us are craft beer connoisseurs, some are whiskey drinkers. Some love football season, others love baseball season. Some love biking (we are located right off the Monon), while others prefer aerial workouts (aerial silks, look it up).
GET TO KNOW SOME OF THE DT DESIGNERS.
WHAT IS SOMETHING UNIQUE THAT YOU BRING TO THE DT DESIGN TEAM?
While I consider what I do as design, some would disagree. I have always been passionate about interactivity and the web as a platform for communication so I have a solid background of implementation and front-end web experience. When I encounter a design I see possible usability, scalability, responsive layout, etc. problems that many visual designers wouldn't bat an eye at. This also allows me to create designs that leverage the technology at hand, knowing its capabilities.
- Josh Littlejohn
WHAT IS YOUR FAVORITE THING ABOUT DT'S DESIGN TEAM?
Our diversity. Both in talent and personality, our team works incredibly well together and our traits compliment each other in a way that allows the greater good to be so much better than that of a group of individuals.
- Randy Fisher
WHAT IS SOMETHING THAT YOU'VE LEARNED THAT YOU NEVER THOUGHT YOU WOULD HAVE TO LEARN?
I have dabbled in several areas that I would never have even considered learning when I was in college. Almost immediately, I was introduced to WordPress. I found it really interesting but fairly intimidating at the same time. Learning the basics was fun and it is something that I would love to learn more about in the future. Since I began at DeveloperTown, I have transitioned completely from a mainly Illustrator user to a multi-program user because I have learned to tailor my tools to the deliverable, not vice versa. Another area of newly found interest is in social media marketing. Similar to DT's business practice, this is how I take every new project that I work on: Learn, Apply, and Refine.
- Korey Clements
HOW IS YOUR HOUSE UNIQUE FROM EVERYONE ELSE'S AT DT?
I shared my house with the most interesting man in the world for about a month.
- Jason Shonk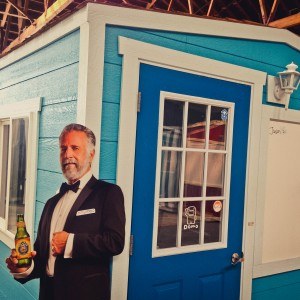 I SHARED MY HOUSE WITH THE MOST INTERESTING MAN IN THE WORLD FOR ABOUT A MONTH.

Jason Shonk,
WHAT'S YOUR FAVORITE LOCAL BAR OR RESTAURANT AND WHY?
That's easy, Brugge Brasserie in Broad Ripple. It's just low key enough that not everyone knows about it in Indy, but offers a top of the line menu, price and beer list (Triple Da Ripple).
- Daryn Shapurji
Apply for a design job or an internship by emailing us at changetheworld@developertown.com