What's holding your application back from taking the next step?
Is it marketing? Churn? Lack of conversions?
Before pivoting or making major changes to your application, explore marketing channels to research your customer's journey, discover application friction points, validate your idea, improve your application, or increase conversions.
Start by clicking on one of your ads and work your way through the marketing funnel or the customer path all the way through your onboarding process, you'll likely identify easily correctable onboarding and retention issues that are throwing your customers off course.
IF YOUR PRODUCT IS IN THE EARLY IDEA STAGE AND HAS COMPETITORS IN A SIMILAR VERTICAL, YOU CAN IDENTIFY AND NAVIGATE POTENTIAL HURDLES BY EXPLORING COMPETITOR MARKETING CHANNELS AND ON-BOARDING PROCESSES EVEN BEFORE YOUR PRODUCT DEVELOPMENT STARTS.
At DeveloperTown we love to help companies identify new application opportunities, but we also start loads of engagements at some point after development has started. Exploring the path a customer takes to get to your product is a small part of our overall process, but also one that cannot be overlooked because it's insanely important to continually look at your product through the eyes of your customer.
I love how marketing and product principles overlap. Developers, designers, and marketers often use different language, but there are core principles that stretch across disciplines and apply to customers for every application.
Note: For this example I decided to pick on my alma mater, Indiana University instead of a startup or risk annoying a future awesome client.
LOOK THROUGH THE EYES OF YOUR CUSTOMER
I use Flipboard on a daily basis, it's amazing! I select my topics of interest and articles are curated for me. As I flipped through articles a few weeks ago I stumbled upon an ad for Indiana University's Kelley School of Business.
Normally, I don't click on ads in Flipboard, but being an IU alum and a huge digital marketing nerd I clicked on the ad to see how they were going to convince me to go to Kelley.
Here's the ad: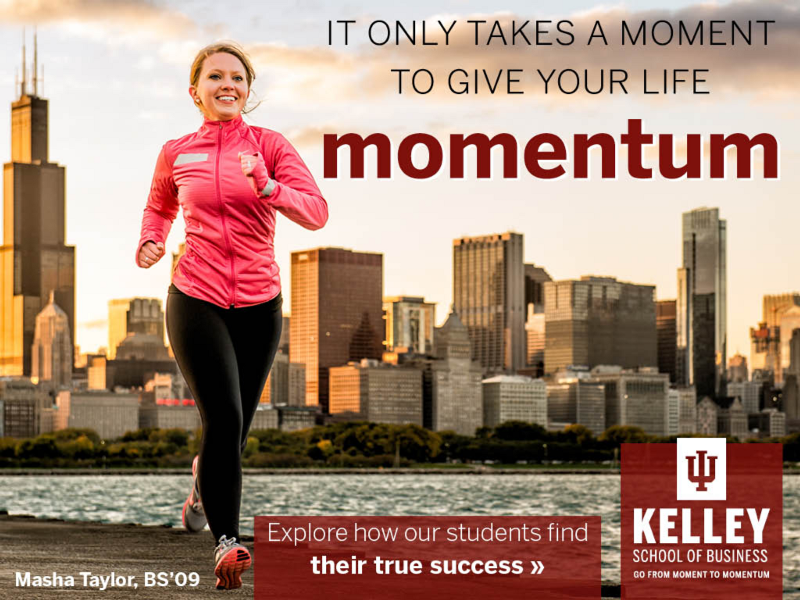 Quick Takeaways:
Nice view of the Chicago skyline. I like Chicago.
Masha Taylor seems happy to be running. Running = Momentum, clever-ish.
"It only takes a moment to give your life momentum." I know attending school takes a lot longer than a moment. I'm still curious.
Call-To-Action – "Explore how our students find their true success." I'm intrigued enough to click.
Okay let's see where this takes me ... (Click)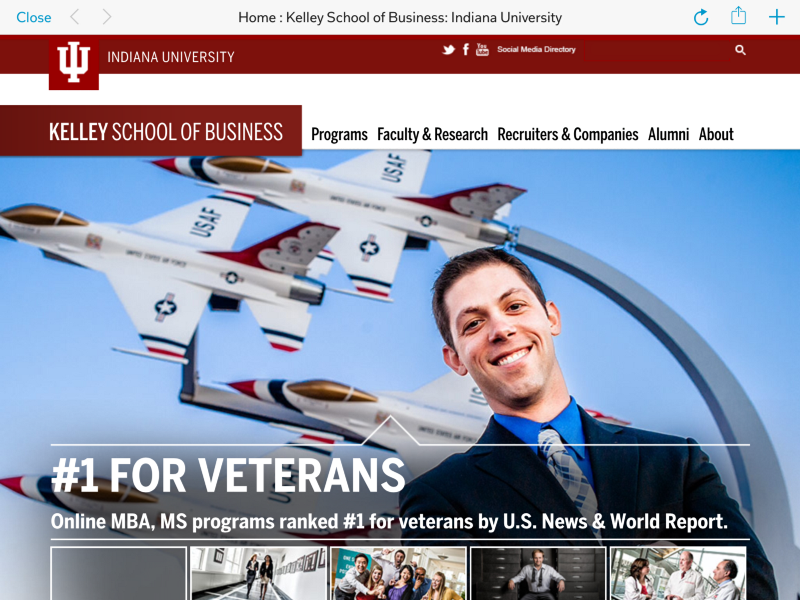 Right to the home page.
REMOVE POINTS OF FRICTION
Friction Point 1# — Unless I'm a US veteran who is interested in getting my MBA, the ad dropped me into a perpetual sea of information without giving me any direction. What is the goal of this ad? Fill in a form? Become generally aware of Kelley? Waste ad spend?
Friction Point 2# — The home page isn't pertinent to me nor does the context of the ad coincide with the home page. I understand Masha went to IU, but don't have any clue who Masha is or why she's running.
If I were a normal customer (not a marketing geek) I would have immediately returned to Flipboard after visiting this page, in other words you just lost a customer.
BELOW ARE 4 WAYS TO USE MARKETING TO IMPROVE YOUR APPLICATION.
1) ASSESS THE GOAL
If the goal of the ad is to attract international students and make them generally aware the Kelley School of Business offers an MBA program, then the ad accomplished its goal. However, if the goal of the ad was to encourage me to submit my contact information then this was a missed opportunity. The same applies to application, if the goals aren't clear your customer will be left to wander your interface.
2) ENGAGE THE CUSTOMER
Stories are a great way to get my attention and keep me engaged, I love seeing people better themselves. Upon further research, the Kelley School of Business is running (*sneaky pun) an engaging "How To Succeed" campaign that features Masha and other graduates.
Here is a video of Masha Taylor telling her story.
Imagine if the ad I saw on FlipBoard said…
"I achieved more than I ever imagined with the Kelley MBA Program." Call-To-Action — "See How You Can Do The Same." or "Learn How Kelley School of Business Can Help."
I'm much more likely to click on that ad, watch the video (because I believe you're about to offer me something of value), and see how she achieved her dreams by attending Kelley.
Try to come up with 5-10 ways to make your application "sticky" and keep customers engaged. I love what this article has to say about customer engagement.
3) SPEAK TO YOUR CUSTOMER'S PAIN AND FOCUS
A landing page, home page, or home screen either catapults the customer further into the application or makes them run away from it. After clicking on an ad, you much clearly speak to the customer's pain, explain how you will do it, and tell them what they should do next.
If the goal of the ad is to get my contact information then dropping me on a home page displaying jets flying in formation doesn't accomplish the goal.
By creating a simple, customized landing page for the ad that contains Masha's "How To Succeed" video and a simple form the customer is forced to focus and is encouraged to action.
4) OFFER SOMETHING OF VALUE
Often contact forms ask for loads of information without offering something in return. If I see a contact form with 27 fields and a button that says "submit" I don't know what I'm signing up for.
I want to know what I'm signing up for and I want something of value.
By keeping the form short and offering the potential student something valuable like an assessment or download greatly increases the likelihood of them entering their contact information.
If you're not offering immediate obvious value with your product your customer won't stay around for long.
CONCLUSION
Using marketing analysis you can explore the customer's application journey, to establish goals, optimize applications, or easily remove friction points and encourage customers to action.